Spalted Tamarind & Zirconium Band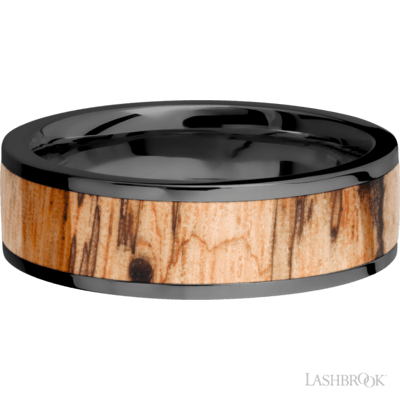 Spalted Tamarind & Zirconium Band
Lashbrook Design
7 mm wide/Flat/Zirconium band with one 5 mm Centered inlay of Spalted Tamarind.
Black Zirconium is typically used in medical applications and nuclear reactors. It is perfect for jewelry because it creates a lustrous black layer when it is heat treated. This layer makes the ring very scratch resistant and allows us to create amazing two-toned styles. Black Zirconium offers the highest design versatility of any performance metal.
Hardwood rings are virtually water resistant. The infusion process used to produce the wood product gives it the density of brass and it can simply be buffed and polished. No stain, lacquer, or other sealant is needed.
*All Bands are lifetime guaranteed (some exclusions will apply)
Allow 4-6 weeks for delivery. For any customization, Please call us at 972-540-2739.